Discover Lost UNE Satellites, Carry Out Missions in our Completely Redefined Mission System, Scan and Identify Strange Alien Lifeforms, Coordinate System, Finite Resources, Improved Object Interactions, and much more!
Some missions will rely on you to use your coordinates to carry out specific mission tasks
Picking up where we left off with the new Map/Radar System we overhauled the Coordinates System to be far more accurate and useful. Latitude and Longitude are in your HUD (no need to use the map tool anymore) allowing you to see your exact location at all times. Coordinates also now play a huge part in the completely redefined Mission System, as some missions will rely on you to use your coordinates to carry out specific mission tasks.
The Map system has also gone through more improvements. Zoom now has a clear near, medium, and far zoom ranges showing precise magnification in meters. Structures, Utilities, and Vehicles now have context specific icons for easier identification on your map.
We've also added location names that appear in your map once discovered.
MISSION SYSTEM AND BUILD GOALS
Clear objectives from U.N.E. and System Computer to help you colonize and survive the harsh conditions of space exploration.
Missions are contextual by Planet and Zone, meaning you can view all your missions or just the missions specific to your current location. You can make missions active or not, allowing you to prioritize your objectives. Once activated, your missions will appear in your HUD in the upper left corner.
The new Mission System sports many types of missions, one of which we call a "build goal". When selecting a build mission, the build's ingredients are shown in the HUD and dynamically change and illuminate as you collect its needed objects. This eliminates the need to constantly go back to the Build/Craft tab to see how close you are to building something. This feature has quickly become one of our favorites!
INTERACTIONS AND SCANNING SYSTEM
Get more scientific as you discover each strange new world.
The interaction system also received a complete overhaul making it far easier and cleaner to interact with objects. There is now a soft "Z Targeting" as you approach objects along with interaction commands such as "[F] Use Scanner". Press F and you'll automatically equip the tool, no need to scroll through your quickslots or press number keys (although you absolutely can if you want). Interactive objects are signified with an outline, just like utilities.
For veteran players, you'll notice the old Map tool is now the Scanner. This is because the Map is now integral in your UI and HUD, freeing up the Map tool model for another use.
ABILITIES AND UI IMPROVEMENTS
Satellite readings now display your position and asset locations on the Map so that you know where you and your objects are.
You will now start to accumulate Ability Points and go up in Ability levels. NOTE - we have yet to add the ability "perks", as this is coming in a future update. However, the groundwork has been created for this deeply valuable system which is our next evolution of the old Skill Tree and Stat Point system.
Colonization save data is now stored, allowing you to view how well you're achieving your primary goal of colonizing the Gliese 581 System. Satellite readings now display your position and asset locations on the Map so that you know where you and your objects are.
Entering and exiting the Shuttle has been overhauled as well, using our new interaction system. To enter the cockpit and pilot the Shuttle, the chair will outline and display a prompt to Enter Cockpit.
Conversely, after landing, your Shuttle will prompt you to exit the cockpit.
FINITE MINERALS AND RANDOM ITEMS
Minerals and other resources are now finite, meaning that they will never regenerate, even after you return to the game. This persistence will force players to think about economy and scarcity, leading to a far more realistic experience.

When mining all of one mineral you will have the chance of finding a rare bonus item, along with earning some ability points.
The player now responds to slopes, providing a much more realistic traversal experience. When slopes are great, either extreme inclines or declines, the player will automatically crouch walk to avoid falling.
Improved worm fossil art and texture clean up on many objects, making loading faster and surfaces crisper.
INPROVED PARTICLE LIGHTING
Much improved particle lighting that takes in the time of day and atmospheric conditions.
Compass has more range and underwent numerous bug fixes.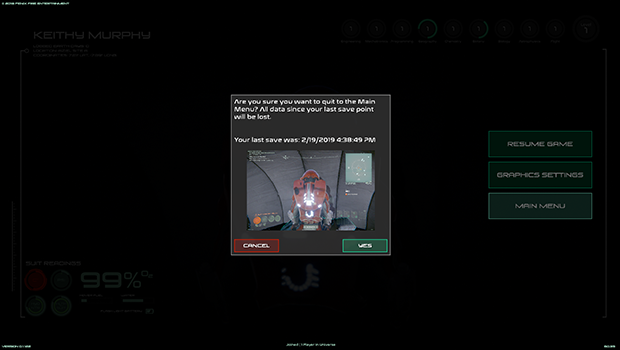 In case you missed it from our last Beta Update, we added a little feature that takes your screenshot to remind you the last time the game saved your progress.
Much easier navigation while travelling in deep space.